When I first started writing this blog, I was the queen of DIY. I made everything from scratch–well, everything I could, because I hadn't been cooking for very long, and I was still figuring it out. I made my own nut milk. I sprouted my own sprouts. I made fruit leathers, snack bars, and yogurt. I fermented vegetables.
Times have changed. I still love the idea of doing it all from scratch, but the truth is that lately I'm far more excited to find a time-saving vegan product on the shelves of my grocery store than I am at the prospect of new kitchen project. Maybe this is just a function of where I'm at right now, or maybe it's the new normal–I'm not really sure. What I know for certain is that I am seriously grateful for a number of smart, useful vegan products, and I thought it was worth writing about them today.
I almost titled this post "the ten vegan products I can't live without," but of course that's not true–I'd do just fine without the products I'm about to share. Making certain items from scratch is all just a matter of how one wishes to invest one's time: I could make refried beans and yogurt every week, but right now I'd rather that time go to recipe testing for the cookbook or to opening up more space for work and life–especially since I have product options that really appeal to me.
It's also worth saying that we all have staples that we enjoy making, and some we don't, and it can be worth figuring out the difference. I love making homemade salad dressing, hummus, cashew cheese, granola, and muffins. I don't really enjoy making homemade snack bars, fermented foods, crackers, or veggie burgers. On the list of things that sound really fun to make, but which I haven't yet taken the time to master, is homemade bread. These lists will probably shift around over time, but they fit my life right now. Distinguishing between the homemade projects that feel fun to me and those that don't allows me to spend my kitchen time wisely.
My list of go-to vegan products isn't meant to be definitive or comprehensive: it's simply a roundup of the items I rely on most, a handful of ways that I use them, and some of my favorite brand recommendations. The list may or may not speak to you, but if it does, perhaps it'll give you some new ideas for saving time in your own kitchen.
More than anything, I hope it might bring home the idea that it's OK to outsource some of your culinary work. I'm not suggesting, of course, that you give up cooking or that you give up on the idea of homemade staples. There's an art–and often a lot of economy–to making one's own pantry items.
But cooking can feel overwhelming at times, and I'm of the mind that strategically relying on a few store-bought vegan items can actually help to make the whole process more accessible. If purchasing a can of refried beans helps you to whip up some tasty homemade tostadas for breakfast, for example–rather than grabbing something lackluster at the corner deli on the way to work–that's pretty great. And if it makes a plant-based lifestyle feel more within your reach, even better.
So, here's a list of the vegan items that get me through busy times. It's always evolving, and one of the great things about being vegan these days is that I know that more and more innovative, time-saving products are soon to come.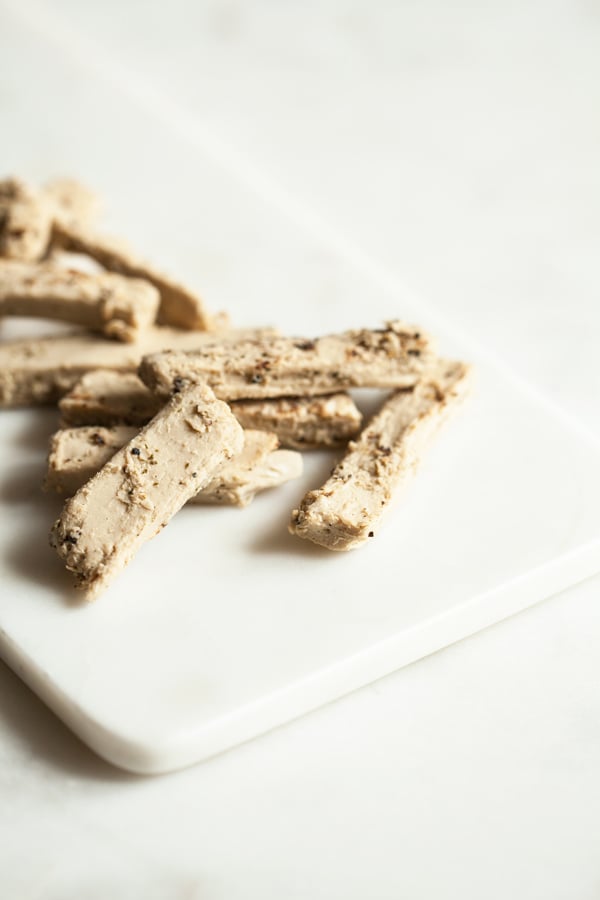 Vegan "Chik'n" Strips or Pieces
These are my favorite faux/plant meat product, and they always have been, but they've come a long way. The vegan chicken-free strips I've tried in the last few years are, I think, amazingly authentic in terms of flavor and texture, and they're so versatile. I also tend to include seitan products in this category, since a lot of them taste (to me) like chicken.
Favorite Uses:
Throwing into salads or vegan lunch bowls, using in vegan enchiladas, adding to pasta dishes or casseroles, adding to tacos.
Favorite Brands:
Beyond Meat grilled strips, Quorn Vegan Chik'n Tenders, Gardein Teriyaki Chik'n Strips, Sweet Earth Foods Curry Satay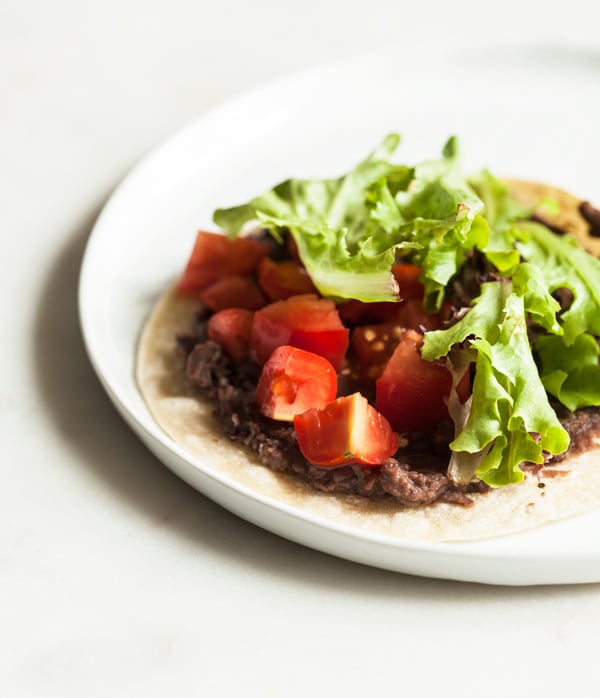 Refried Beans
As mentioned, these are most definitely a go-to for me. I do a lot of tostada breakfasts–usually two corn tortillas with refried beans, leftover rice, avocado slices or guacamole if I have it, and other creative toppings (sometimes leftovers from the night before). Making refried beans from scratch is nice on a weekend, but having them at the ready makes weekday assembly so much faster.
Favorite Uses
Breakfast tostadas, enchilada casserole, nachos, tacos, dip/snack
Favorite Brands
Whole Foods' 365 Refried Black Beans, Amy's Light in Sodium Traditional Refried Beans, Pacific Organic Refried Black Beans with Chilis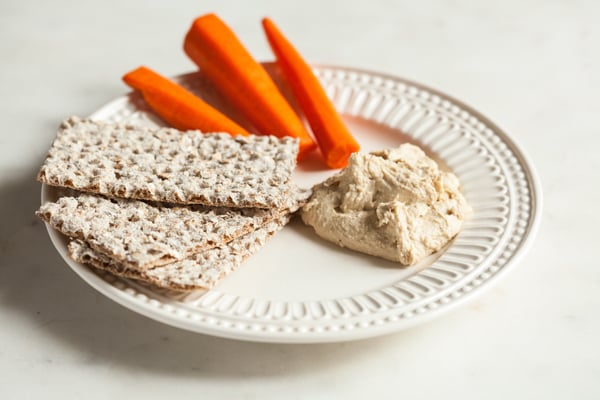 Whole Grain Crackers
I love to make a batch of hummus each weekend, but I leave crackers to the pros. I rely on a couple of wholesome brands–especially those that feature whole grains, like spelt, or nutritious nuts and seeds.
Favorite Uses
Easy snacks or snack plates, serving with soup
Favorite Brands:
Wasa Multigrain or Flax Seed Crispread, Engine 2 Triple Seed Crispbread, Natural Nectar Flatbread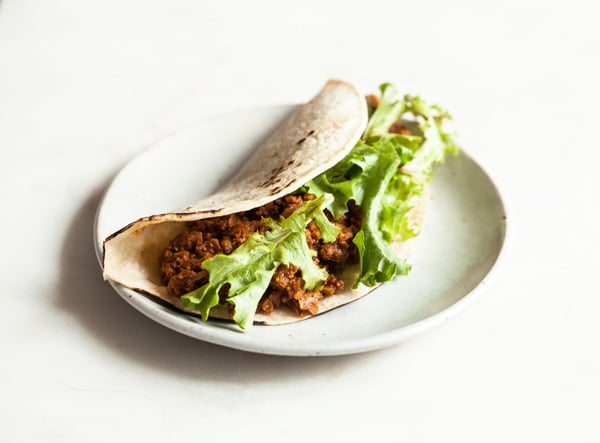 Vegan Meaty Grounds or Crumbles
Pictured above in a super quick soft taco, but also a mainstay for homemade chili, skillet rice dishes, casseroles, and pasta sauce. I love the texture and heft and protein that crumbles and grounds can add to everyday cooking and comfort food dishes alike. I tend to go for chipotle, chorizo or Italian flavor profiles, but the plain ones can be really useful, too.
Favorite Uses
Stirring into skillet rice or quinoa for a quick Mexican-themed dinner, folding into homemade marinara for hearty pasta, adding to my gluten-free mac n' cheese for chili mac, adding to casserole dishes, throwing into burritos or tacos.
Favorite Brands
Sweet Earth Savory Grounds, Beyond Meat Beefy Crumble or Feisty Crumble, Tofurky Chorizo, Lightlife Smart Ground, Gardein Beefless Ground, Field Roast sausages (great for crumbling by hand into pasta and other dishes), Neat Mixes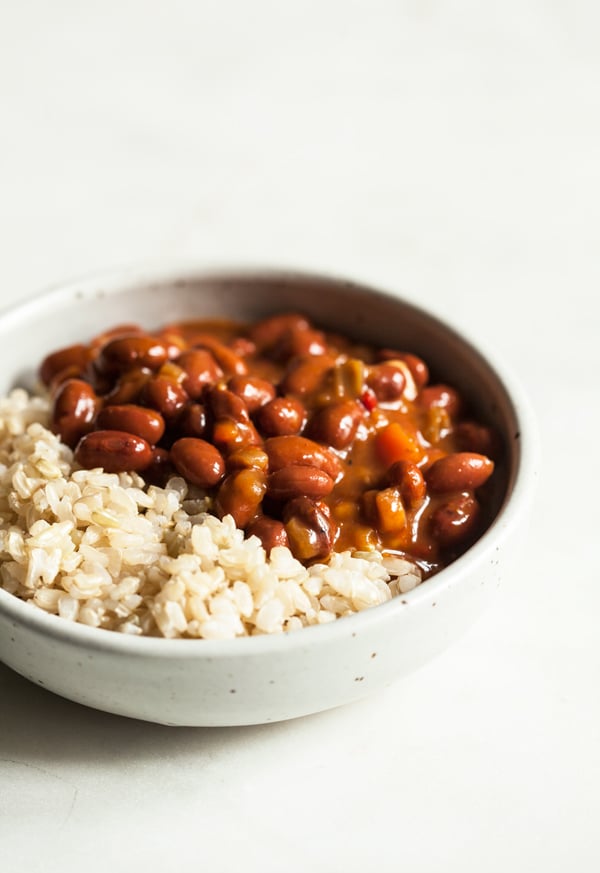 Pre-cooked Rice
I am, honestly, super embarrassed to admit this one. After years of writing ad nauseum about the value of batch cooking whole grains on the weekend to use during the week ahead, I have–more often than I'd care to admit–leaned on frozen, pre-cooked brown rice as a staple this year.
I'm not proud. And I still cook a lot of rice at home. It's just that sometimes our dinner plan changes spontaneously, and we're suddenly eating something that cries out to be scooped over a bowl of rice. Or we've got most of an entree ready, but it needs a whole grain in order to be substantial enough. And when this happens, using the pre-cooked stuff is really quick, and really easy.
I'm not suggesting this, exactly. Theoretically, I encourage everyone to batch cook, then freeze, rice. This is what I do, too–theoretically. But we all know that real life competes with our plans and good intentions sometimes, and when it does, pre-cooked grains may just come in handy.
Favorite Uses:
Stir fries, using as an accompaniment for curries, stirring into casseroles or bakes, using as a quick component for bowls
Favorite Brands:
Whole Foods' 365 frozen brown rice, Seeds of Change Brown Basmati Rice or Quinoa & Brown Rice, TastyBite rices
Organic Soups and Chilis
Another one I sometimes feel guilty about–after all, soups and chili are two of my very favorite dishes to make from scratch. But life happens, and when a pot of homemade soup isn't in the stars, having a box or can in the pantry can make for a very quick meal indeed. Sometimes I even stir in a box of canned beans for a little extra protein and nutrient density.
Favorite Uses
Serving with bread or rice for an easy meal, stirring (chili) into my gluten free mac n' cheese for chili mac, using as the base for a rice or quinoa casserole (especially good with mushroom soups)
Favorite Brands
Fig Foods organic soups, Pacific Foods soups (especially the butternut and red lentil), Amy's vegan soups and chilis (I try to get the "light in sodium" options)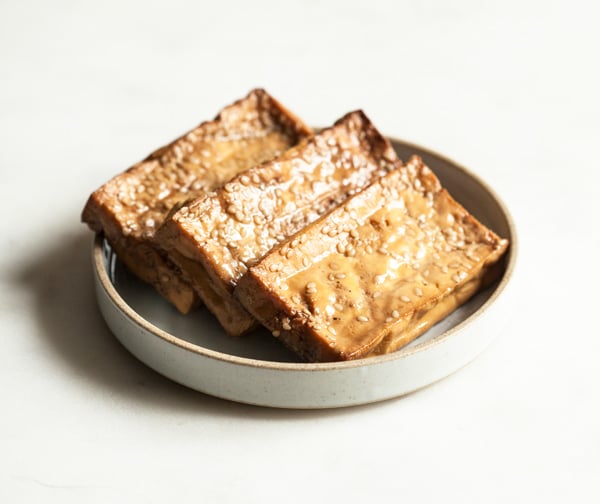 Smoked or Pre-Seasoned Tofu
This is one of those dishes that I would actually always prefer to make myself–I love marinating and baking tofu and tempeh–but I do rely on the pre-seasoned varieties when things are super busy, or if I need to add tofu to a dish quickly but know that it needs flavoring first.
Favorite Uses
Adding to stir-fries or soba/udon noodle dishes, adding to grain bowls, adding to wraps, chopping and adding to salads
Favorite Brands
Soyboy Smoked Tofu (I absolutely love this stuff, and I use it in a lot of dishes), Wildwood Organics baked tofu, Nasoya TofuBaked, Fresh Tofu Inc. Lemon Pepper Tofu, Westsoy Italian Garlic Herb Baked Tofu, Hodo Soy Five-Spice or Curry Thai Tofu Nuggets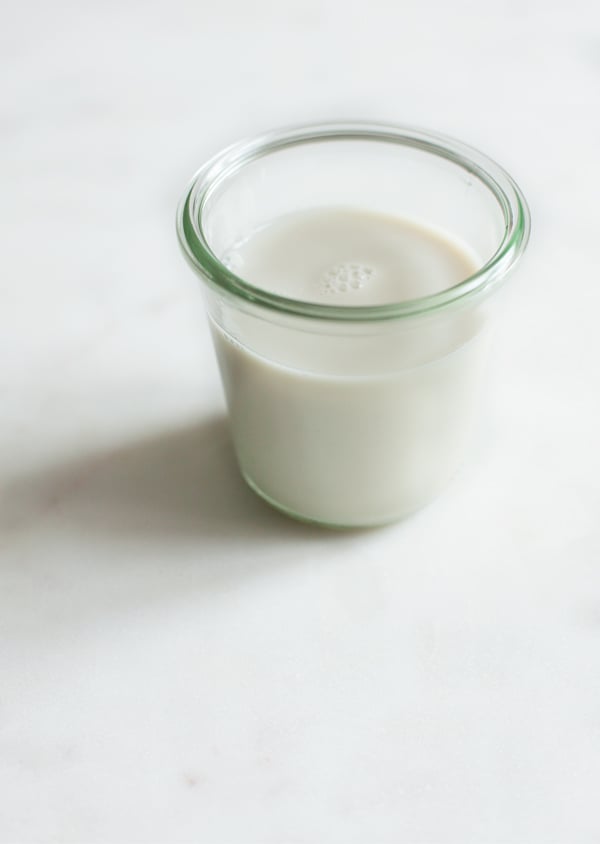 Almond and Soy Milk
I used to be big on homemade nut milk, and I still love it as an evening treat, or for adding to homemade muesli. But my enthusiasm for making it from scratch has dwindled, and beyond that, I like to use store-bought varieties to ensure that I'm getting the calcium from fortification.
Favorite Uses
Oatmeal, cereal, soups, baking
Favorite Brands
Silk Almond and Soy Milk, So Delicious Dairy-Free Almond Milk, Califia Farms Almond Milk, Westsoy Original Soy Milk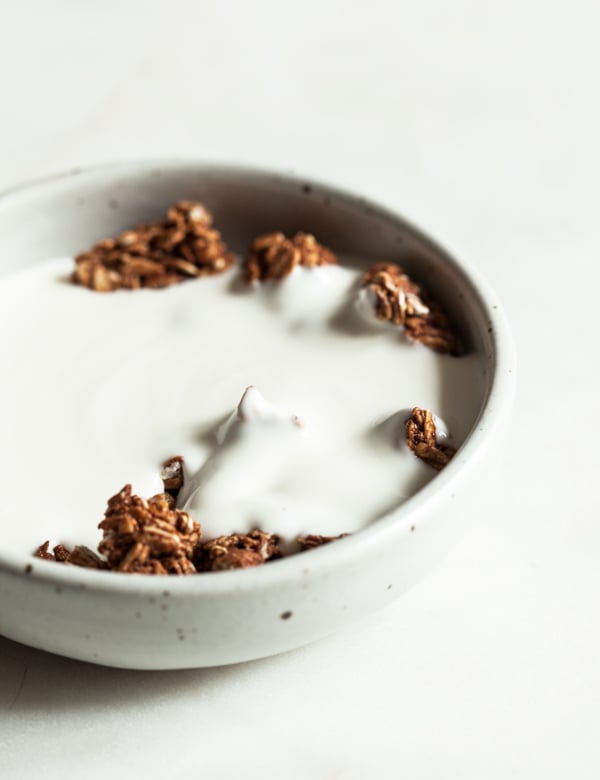 Vegan Yogurt
Another one I've made in the past, but which I just prefer to invest in nowadays–especially soy yogurt, which is relatively inexpensive and my favorite option from a taste perspective. I love combining it with homemade granola (something I do relish making from scratch!), my crispy buckwheat cocoa clusters, or muesli. The unsweetened varieties (especially Nancy's plain soy yogurt), are also great for topping curries or Middle Eastern dishes.
Favorite Uses
Muesli, with granola and fresh fruit for breakfast, adding to overnight oats, serving with Indian or Middle Eastern dishes
Favorite Brands
Nancy's Cultured Soy Yogurt, Silk Dairy Free Yogurt, Amande Cultured Almond Milk Yogurt, Kite Hill Yogurts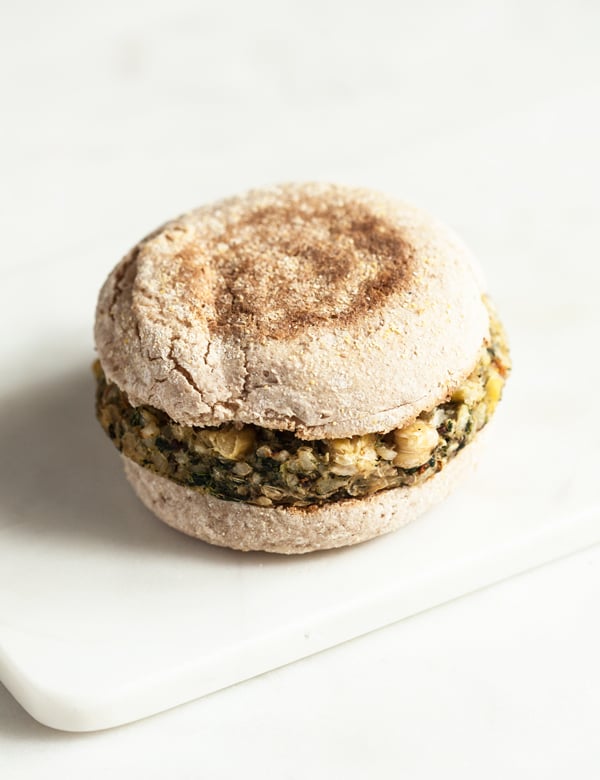 Veggie Burgers
I have a love-hate relationship with veggie burgers. When I make them and they turn out well, I love them–and so does Steven, who could probably eat at least one veggie burger every day of his life. But I find that it actually takes a lot of work and tinkering to get a recipe just right, and sometimes, I don't have the patience.
For this reason–and because we eat a lot of them–I tend to buy veggie burgers, unless I have a bunch in the freezer already from a recent, homemade batch.
Favorite Uses
Serving on buns or English muffins with hummus or avocado, crumbling into rice skillets, crumbling into bakes and casseroles, folding into soft tacos for breakfast, wraps
Favorite Brands
Sunshine Burgers, Hilary's Eat Well "World's Best" Veggie Burgers, Gardein Black Bean Burger, Sweet Earth Veggie Burgers, Field Roast FieldBurger, Amy's California Veggie Burger, Dr. Praeger's Veggie Burgers (lots of vegan options), Neat Mixes (can be shaped into burgers), Engine 2 Italian Fennel Plant Burger . . . can you tell we've done some taste testing? 🙂
Runner Ups: Vegan mayonnaise, vegan buttery spread, vegan cereals (for Steven, who eats cereal for breakfast almost every day)
Again, this isn't a comprehensive list in the sense that the products we need most are always changing. Once cookbook testing is behind me, I'll be able to settle into a more regular cooking routine that includes more batch cooking on weekends and a lot more everyday staple foods, and I suspect that I'll be able to DIY a little more.
But for now, these foods help to make my vegan lifestyle just a little simpler and more accessible, and I so appreciate that I have them as options. It seems as though more and more companies are bringing vegan options to the table these days, and I hope the trend continues.
I'd love to hear more about your favorite vegan brands and products–and if you'd like me to share any of the semi-homemade recipes I mentioned in this post, let me know!
xo